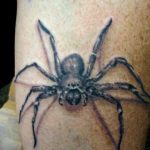 What is your favorite tattoo style?
I enjoy all styles of tattooing, but if I were forced to only tattoo one way…I would say tattoos that have appropriate line variances, bold bright colors and a fun eye-catching image. So that would let me tattoo traditional, neo-traditional and new school imagery.
Who are some of your favorite artists?
There are so many artists out there that I enjoy. It would be hard to pick a couple and say they are my favorite. There is one artist that kind of started it for me, enjoying tales of a boy and his pet tiger. Of course, I am talking about Bill Watterson's Calvin and Hobbes. I still to this day find myself getting lost in a little boy's adventure.
What inspires you in your art?
It's hard to say what inspires one to create. There are many factors, all different at times. I think it's life in general that inspires people to do things and that is what I think inspires me the most.
What, or who got you into tattooing?
I can't remember when I started drawing, I was young. I was 18 and getting tattooed back in 1999 by an artist named Jason Strunk. During one of my every two-week tattoo appointments, he was firing his apprentice. We got to talking about how one could mess up an opportunity like that. One thing led to another and he asked if I wanted to give it a shot. That's how I started tattooing.
Etc.
I have been tattooing about 16 years. I was born in Colorado Springs, Colorado. Spent some time in Germany and finally settled in the tri-county area around Pottstown.